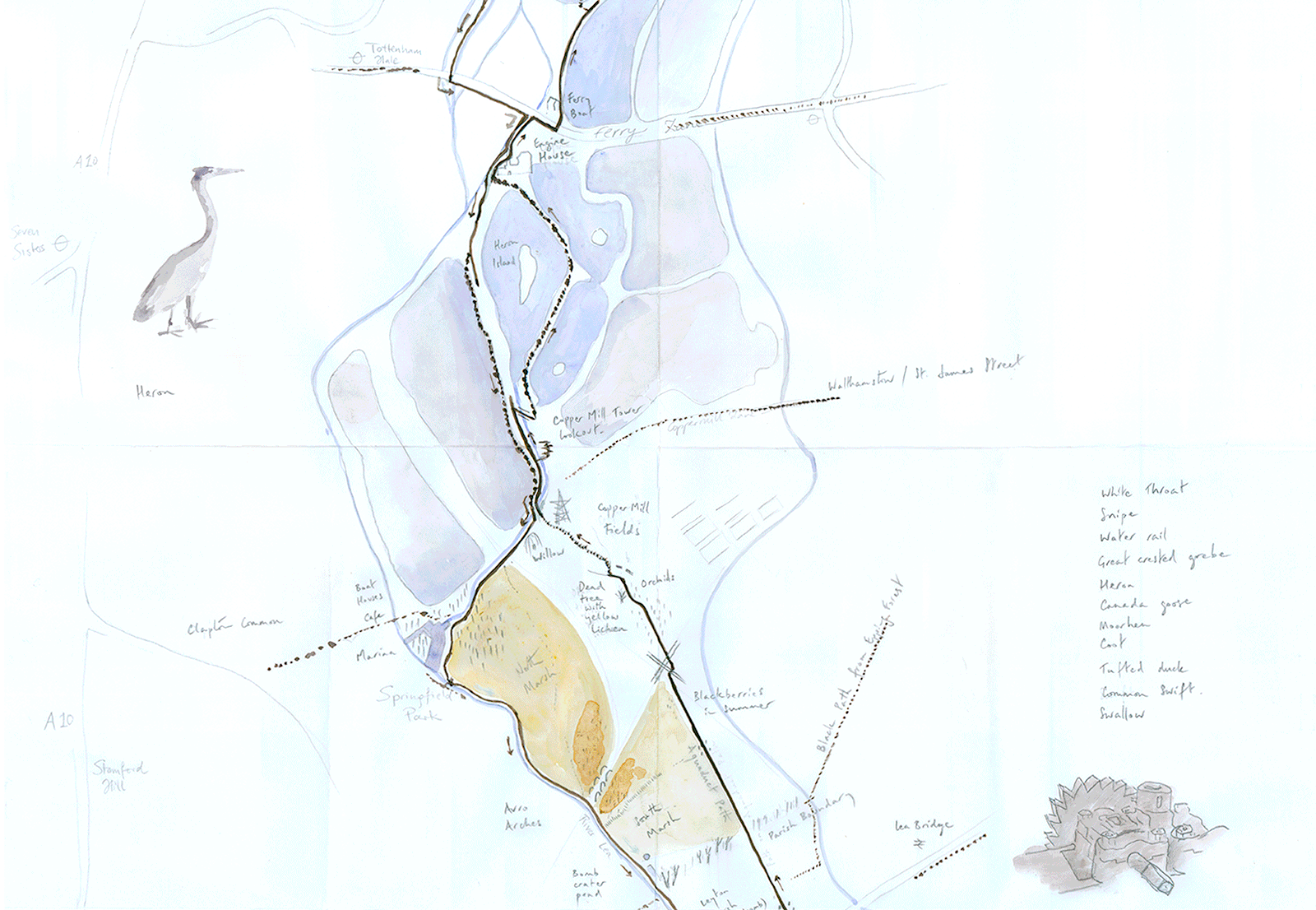 Collaborators:
24 East London residents
Outputs:
5 collaborative walking maps (A1 size folded down to A4) with instructions printed on the reverse, documentary publication for all contributors
Year:
2021
Map 1: Walthamstow Wetlands

Chris
(27.12.2020) This is a figure of eight, 10mile-ish from my door. Turn around at the engine house it it's too long!
Laurie Elks
(15.2.2021) This is one of my favourite walks. I could do it again and again.
Harry Hewat
(4.4.2021) Easter Sunday. A beautiful day. Sharp sunlight reflected over the reservoirs.
Louise Goodison
(8.5.2021) I walked in a storm. Wind high and occasional rain created a dramatic backdrop. Diversions at the red bridge and Northern Reservoir closure – subtly altered route.

Map 2: Chatsworth Road

Jørn Tomter
(17.1.2021)
Steph von Reiswitz & Lucia (7)
(11.4.2021) I really noticed how connected I feel to this area, and all the great things lockdown has been depriving us of.
Eleanor Bembridge
(25.4.2021) It was a market day so half of the walk was vibrant and noisy and half was peaceful.
Linda Culverwell
(29.5.2021) The sun was out at 5pm and everything was glowing! I felt such positivity and hope!

Map 3: Arnold Circus – Cat & Mutton Bridge
Patricia Seex & Huw Davies
(27.12.2020) This is a route we walk frequently. We saw new things and things in new ways.
Rachel Faulkner-Gurstein & David Madden
(5.2.2021) A beautiful day to walk a familiar but not recently visited route.
Poppy Payne
(3.4.2021) The mosaics were beautiful, we did animal themed pictures.
Dan Buckley
(23.5.2021) My cycle to work for 7 years pre-Covid. Great to revisit.

Map 4: London Fields

Sean Gubbin
s (4.1.2021) Completed the walk at dusk – a different perspective I have never tried before.
Rebecca
(25.1.2021) Walked early starting before dawn in the dark – then twilight, dawn and early light.
Charlie
(15.2.2021) More people around than usual. Mid afternoon, cloudy, relatively calm.
Emily
(25.5.2021) Lovely to take a lunch time walk. It's warming up! A great reason to look for manhole covers.
Claire
(27.6.2021) It was an overcast, though warm Sunday lunch time. I was struck by how quiet it was, even when there were people and traffic, as if the volume had been turned down. I looked UP, rather than down, somehow. Forgot people, and was just aware of surroundings.

Map 5: Butterfield Green – Newington Green

Jeannie Far
r (17.1.2021) Newington Green was full of people socialising with each other (in pairs & small groups) – I enjoyed this. Saw birds, haven't seen them in other places. I loved doing this.
Ena Fry
(6.2.2021)
Jeremy Sharp
(13.3.2021) Amazing sensual experience. I really understood how mindful I can be.
Gabriel
(24.4.2021) I chose to look at the flowers I encountered along the way. It was a beautiful day for it.
How it worked: In this project 24 East London residents walked on various shared routes over a period of six months. It resulted in five physical, collaborative maps of different areas of Hackney, Tower Hamlets and Islington. Each map was generated by four to five participants who walked along the same route at different times, annotating their thoughts, ideas and observations on a shared A1-sized sheet of paper, that was passed from one walker to the next.

The first walker determined the route and focus of each map. Each subsequent walker followed the steps of those who went before them (more or less), adding to and expanding upon their predecessors' notes, drawings and observations, so that the map grew in complexity with each contributor. I asked each person to nominate the next participant, thereby creating a chain of socially connected walkers.

Prior to the walk, participants received a zip-locked envelope containing a physical paper map (A1 size) as well as a selection of materials such as stickers, tape, pens and paper. I cycled around East London to deliver them to pre-arranged dropping off points — usually people's front doors, where walkers received the pack in a Covid-secure way. Each participant went on the walk individually or with members of their household, marking up and annotating their route, thoughts, discoveries and observations. Sometimes the annotations happened during the walk itself, sometimes afterwards at home. If walkers didn't want to draw and mark up the map themselves, they sent me photos, notes or audio files and I annotated on their behalf.

Walkers returned the map and materials in the zip-locked envelope to me. I produced an interim scan of the map, uploaded it to a website, stocked up on materials and delivered the map to the next walker.

︎

The resulting maps: I look through the maps piled up on the desk; a mish-mash of written and visual responses to five walking routes in East London. There are observations, memories, thoughts, occasionally some historical knowledge on the area and a surpising amount of sensory data: "Absolutely freezing" (Map 2), "Chip shop smells of chips – for obvious reasons" (Map 4), "Had a great tit singing as I approached Butterfield Green" (Map 5).

When I was planning this project during the height of the Covid-19 pandemic I wasn't particularly thinking of cold hands or the smell of chip shops. In the context of increased levels of anxiety, isolation, restrictions and the near-total digitisation of everyday life, I was keen to develop a project that foregrounded materiality, embodiment, and being-in-common. How might it be possible to be alone, but with each other?

The resulting maps do indeed speak of relations and attachements. I read them as a record of the bonds we formed and strengthened to our shared neighbourhoods during these peculiar, solitary months. For example on Map 1: Walthamstow Wetlands walkers focused on the natural environment and its textures. As I study the drawings, photographs and inscriptions on this map, it occurs to me that the sheet of paper and art supplies were not the only materials that had been shared. The ground, the path, the 'pavement' of the project's title, is another instance of materiality held in common. The common ground emerging on Map 1 — heterogeneous, verdant, shimmering — reminds us of promising forms of being together. These maps invited singular expression in response to and in conversation with collective presence, where individual contributions play a part in building a shared world.

It can at times be hard to know how to "make sense" of our current moment. Many of you did so simply by being open to the world as it presented itself to you: using your senses, noting your connections, and pointing each other to the cracks in the pavement.

Excerpt of Map 2: Chatsworth Road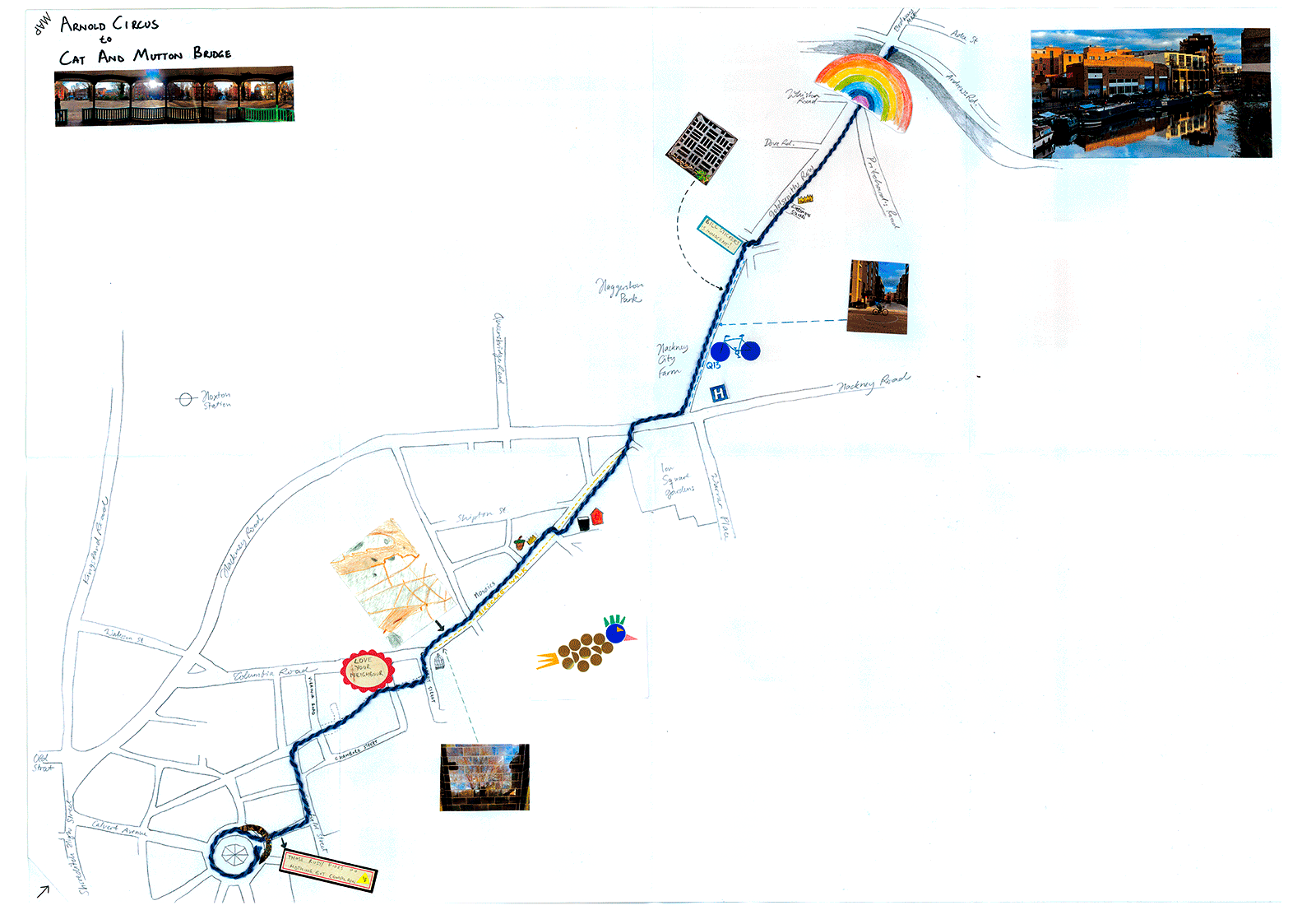 Map 3: Arnold Circus to Cat & Mutton Bridge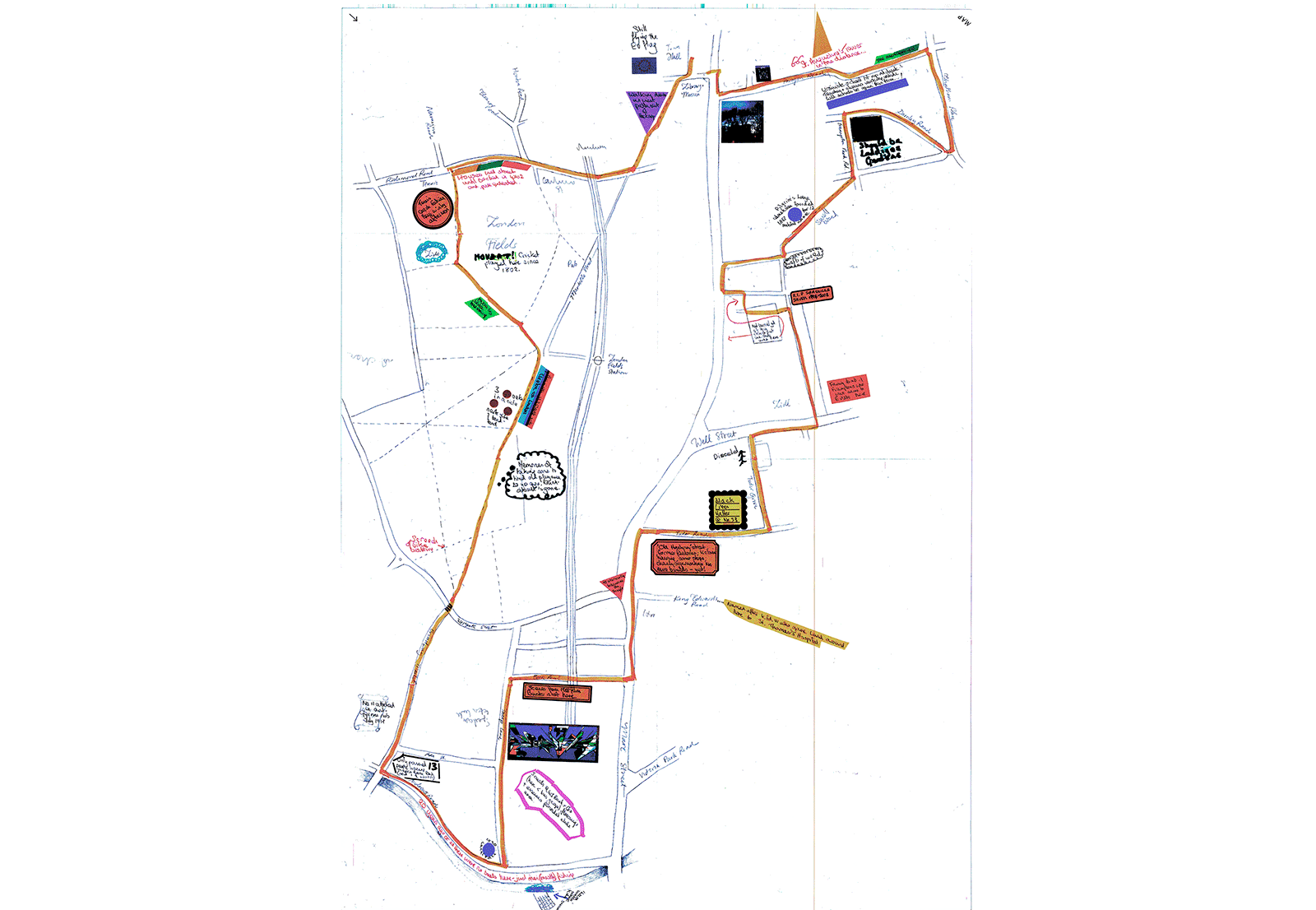 Map 4: London Fields
Excerpt of Map 5: Butterfield Green – Newington Green
Contents of pack for walkers
Pack left on a walker's doorstep
A walker annotating their walk on Map 3
Documentary publication for participating walkers