Rumour Legend Tradition Fact
Commissioned by:
︎︎︎Willis Newson
for Balfour Beatty, Bicester Community Hospital
Photography (for book):
︎︎︎Michael Whelan
Graphic design (for book):
Jessie Price
Production:
Fiona Fletcher
Choir video: ︎︎︎
João Retorta
Outputs:
permanent installation of 12 panels at Bicester Community Hospital, sound installation at Bicester Community Hospital, book, video documentary of work with choir
Year:
2014
Links:
Watch choir video
︎︎︎HERE
This work was produced in response to an arts commission for Bicester Community Hospital.
The brief was called 'Our Heritage' and asked for pieces that reflected the culture and identity of the area.
I visited the Oxfordshire History Centre and made contact with people in Bicester, who were linked to the hospital or were involved in local history. I also began to reflect on the idea of heritage: the way we work with historic material to create meaningful narratives of cultural identity, and how the material is always subject to reinterpretation and adaptation in the process.
On one of my first visits to the History Centre I came across some local history records from the 1950s. They were forms that had been filled out, presumably by an archivist, recording whatever information they had been presented with: for example a 'list of local crafts and industries' or 'photographs of cottages that are about to be demolished'. What caught my attention was a short list of qualifiers to be applied to the record: 'Rumour, Legend, Tradition, Fact, Private Record, Parish Record'. I thought this list could be read as a playful reference to the malleability of historical material and immediately decided to use it. I shortened it to 'Rumour, Legend, Tradition, Fact' and made it the title and framework of my project.
I spoke with many different people, looked through archive material and went on explorative walks. Eventually I created twelve illustrated, poster-sized
Local History Records
based on the material I had collected. I also reinterpreted and recorded a song with the Bicester Choral and Operatic Society and used this for a sound installation in the stairwell of the new building.
I decided to produce a book as a record of the process that lead to the finished pieces: people, conversations, landscapes, snippets of text and imagery. But the book is also a piece in its own right. Photographer Michael Whelan, graphic designer Jessie Price and I worked together to create a publication that resonates with the overall theme: heritage as a continuous retelling and adapting of stories – a patchwork of rumours, legends, traditions and facts.
Panel 10/12 // in situ at Bicester Community Hospital, documentary photo by
︎︎︎Manuela Barczewski
Panel 06/12 // in situ at Bicester Community Hospital, Red Cross uniforms photographed by
︎︎︎Michael Whelan
Rumour, Legend, Tradition, Fact
book cover
Rumour, Legend, Tradition, Fact
double page spread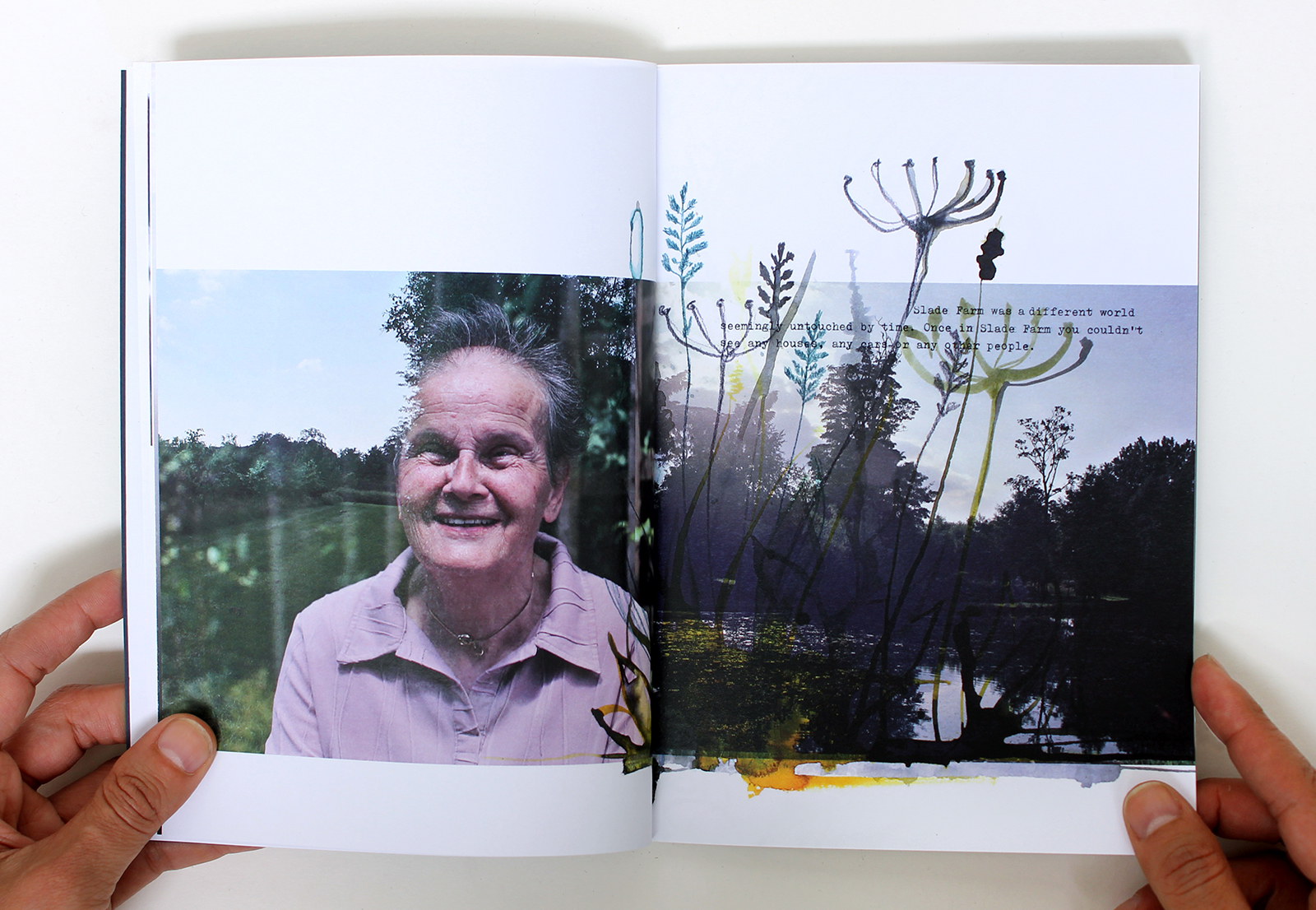 Rumour, Legend, Tradition, Fact
double page spread
Still from choir video, watch
︎︎︎HERE